Revised 05/03/01
Welcome to the World of
Charles and Dusty
felines cats planes airplanes flying pilots log houses hangars fly-in communities airparks AMSOIL Maine Coon Cessna 150 aviation log homes Hearthstone homes airline memorbilia
All there is to know about cats, cars, airplanes, log houses and possibly the Seven Wonders of the World!
---

HOME * DUSTY'S PAGE * THE HOUSE * THE HANGAR and MORE HANGAR STUFF * THE AIRPLANE
ODDITIES AND HOBBIES and even MORE HOBBY STUFF * FAVORITE LINKS * AMSOIL PRODUCTS

---

Please be sure and return to these pages frequently as I am constantly updating, editing, and adding to them.
As many people know, one does not have a cat for a pet, nor do they live in your house, but rather, you are there to serve them, and the house is theirs, you just happen to live in it (and pay for it) as it is convient for them, since you are their servant.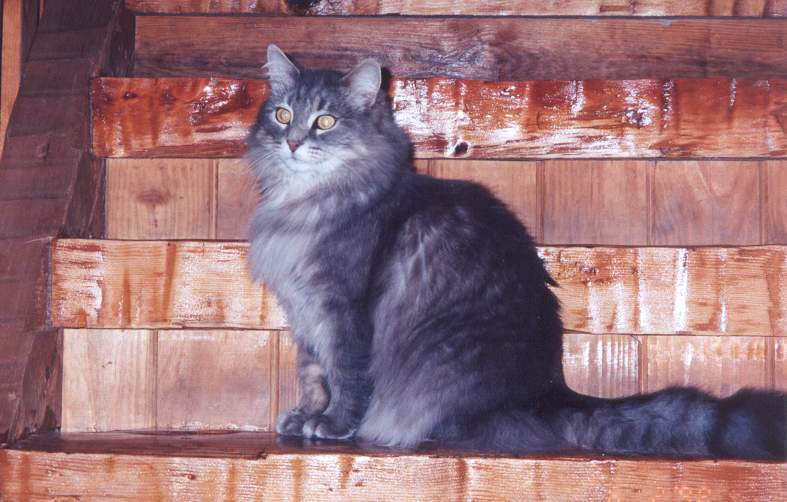 Now that we have it straight who is the master of the house, lets get on with this..................


(Just click on Dusty's friend to follow him to Dusty's page)

As you can see from the next photo, We live in a rather unique neighborhood, a fly-in community, sometimes known as an airpark. This is the North half of the neighborhood, the remaining half is out of view to the bottom of the photo.
This is the Flying N Estates, near Luthersville, Georgia, about 45 miles south-south west of the Hartsfield Atlanta International Airport, which by the way, is where I work.
Please see my More Hobby Stuff page for a new additions to the airline memorbilia.
I've added many new aviation links to my Favorite Links page, check it out!!!!
Check out my new pages for Early (1959 thru 1963) Cessna 150 inspection!!! CLICK HERE for a direct link to the Cessna 150 inspection homepage. It is turning into a "monster" quickly, but new information is being added DAILY, so keep checking back.
Having baited your interest a little, try some of my other pages as it is not possible to jam everything on one page!
Thanks for visiting out web site, Charles and Dusty.




The three photos above were shot with a Yashica EZS zoom 105 and prints (4x6) were scanned on a HP 4100C
Most other photos were shot with an AGFA e Photo CL30 digital camera. I compressed the images quite a bit
so they are not as good a quality as comes directly out of the camera or the scanner.
These pages were created a 1152x864 resolution and may display differently on lesser resolution monitors.
I am, however in the process of converting the pages to 600x800 format, please bear with me.
THESE PAGES CREATED WITH NETSCAPE COMPOSER (its a good program, I'm just not very good at using it)
*
EMAIL ME AT hannacm@charter.net