Revised 09/03/08
A Log House?
---
HOME * DUSTY'S PAGE * THE HOUSE * THE HANGAR and MORE HANGAR STUFF and HANGAR DETAILS * THE AIRPLANE
ODDITIES AND HOBBIES and even MORE HOBBY STUFF * HUMOR * FAVORITE LINKS * AMSOIL PRODUCTS
---

Email me at pobox136@hotmail.com
A log house is still not a common thing, and if you decide to buy or build one there are several factors to consider.
But first I'll show you a little of mine.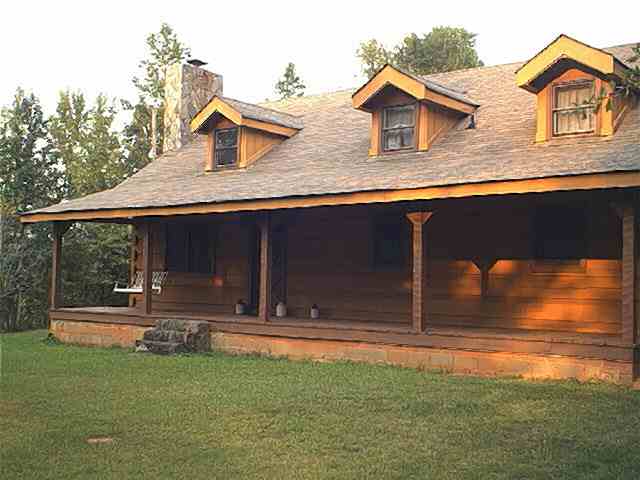 This is probably the most common log home floor plan in existance. The greatroom is to the left side and has a dining room behind it with a kitchen in the rear center of the house. The right side is the bedrooms, in this case one big one that runs the depth of the house. Upstairs is a loft that overlooks the greatroom and a master bedroom and bath over the downstairs bedroom. The area upstairs in the back where the roof comes too low to be usable floorspace is walled off with a "knee wall" and us used for storage as an attic.

What is unusual about this home is the log construction itself. This home is designed by Hearthstone Homes and uses a type of construction first seen in Kentucky in the 1700's. The logs do not contact one another but rather have a four inch space between them with spacer blocks between them. The gap is filled with insulation and closed inside and out with masonite filler strips. These gaps are where many of the wires are run to outlets and light switches.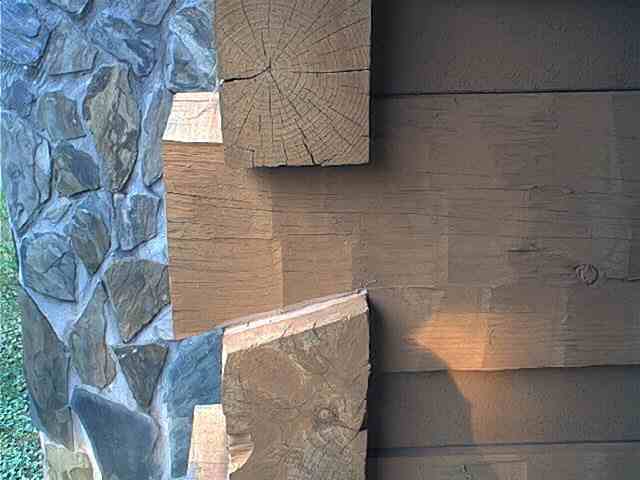 The purpose of the gaps is most likely to save on the number of logs used in the construction of the house. In the 1700's each log was a lot of work to cut and haul to the house site, and it was easy enough to fill the gaps with chinking which was simply mud and straw mixed and packed into the gaps. In this photo you can see the masonite strips above and below the log, which is 6 inch thick by 10 inch high. The ends are cut at certain angles to keep the logs locked together and seal them.

There are many misconceptions about log homes, and unfortunately, the notions cause the homes to be difficult to finance and sometimes to insure.
Fire: many people belive that log homes are more "dangerous" in a fire, or more prone to burning, but just the opposite is true. It is much easier to start a pile of twigs and branches on fire than a pile of tree trunks, and the twigs and branches will burn up much more rapidly. Just the same is true with a log home, which will usually leave the shell standing after a fire, while a conventional home will collapse in on itself.
To be continued....