Revised 09/03/08
Charles' and Dusty's
Oddities and Other Hobbies
The Airline Page

---
HOME * DUSTY'S PAGE * THE HOUSE * THE HANGAR and MORE HANGAR STUFF and HANGAR DETAILS * THE AIRPLANE
ODDITIES AND HOBBIES and even MORE HOBBY STUFF * HUMOR * FAVORITE LINKS * AMSOIL PRODUCTS
---

Please be sure and return to these pages frequently as I am constantly updating, editing, and adding to them.
*
I have added so many images to this page I'm starting a second page
CLICK HERE TO GO TO THE NEXT PAGE OF AIRLINER GOODIES
*
IF YOU ARE INTERESTED IN A LITTLE AVIATION
HUMOR, CLICK HERE.This takes you down this page.
*
CLICK ON THE LINK OR ANY IMAGE TO ENLARGE THE IMAGE TO FULL SIZE.
*
Email me at pobox136@hotmail.com
Working in the Airline business, one takes an interest in old items and collectables related to the industry, my father was employed by Delta Air Lines (and Chicago and Southern Air Lines) from 1939 to 1984, and I found an astonishing amount of goodies put away that I had never seen when growing up. My brother is employed by Northwest Airlines and both of my Grandfathers were employed by railroads, Dad's father worked as a Station Master and Telegrapher for the Walbash RR (Dad had a nearly identical job for CandS and later Delta) and Mom's father was a Roundhouse foreman for the Santa Fe RR, so we certainly were and still are a transportation oriented family.
In June of 1939, my Father went to work for Delta Air Lines in Atlanta as a radio operator, the pay was $100 a month (I have his first paycheck stub) and in the fall of '39 dad was transfered to Birmingham, Alabama. At Thanksgiving of '39 my parents were married in Texas and lived in Birmingham and then Fort Worth until October of 1940 when dad quit Delta and went to work for Chicago and Southern Air Lines in Memphis. Little did he know that 13 years later he would again work for Delta when the two carriers merged.
If you click here you will load and display an advertisement placed in several magazines in the spring of 1940 by Douglas Aircraft Corporation, announcing that Delta Air Lines was beginning operation of Douglas Aircraft, which were actually used DC-2's purchased from American Airlines.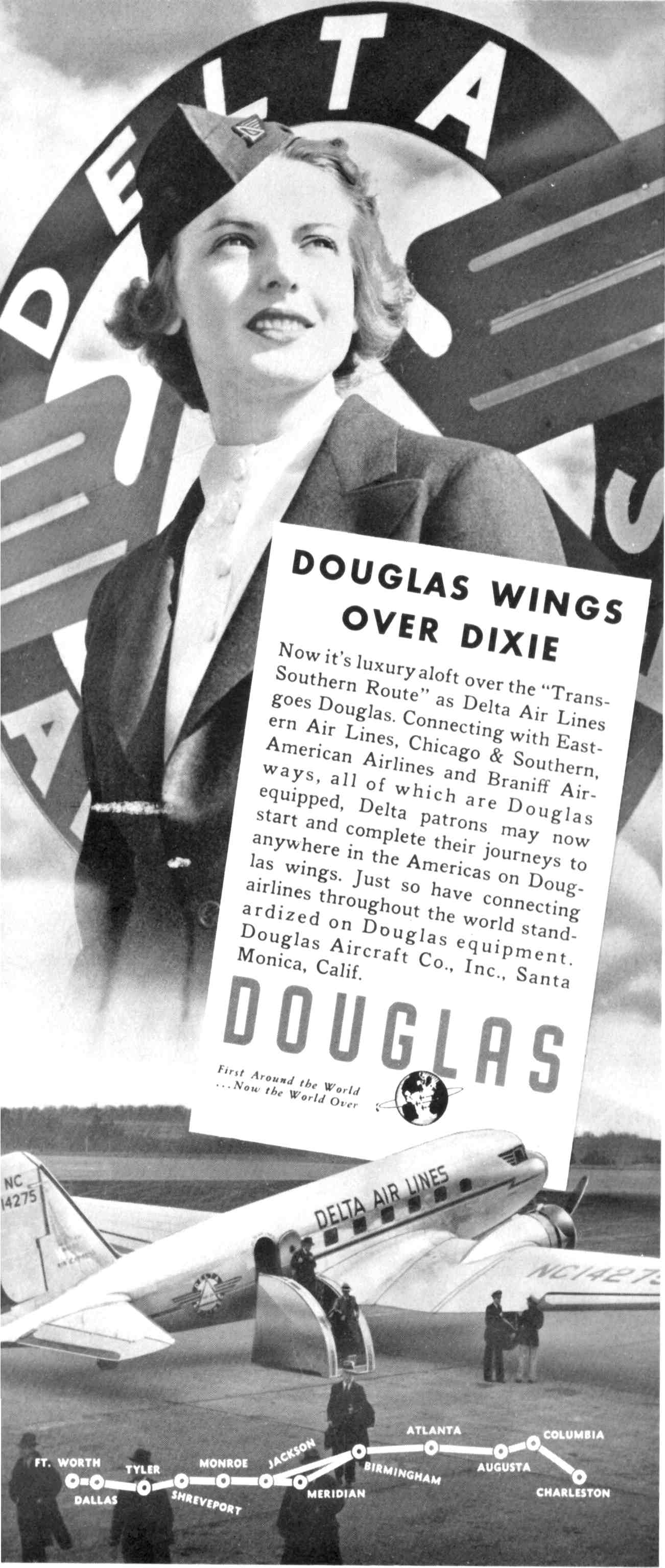 I was lucky enough to inherit three originals of the ad. These originals were "preview" copies distributed to the airline employees prior to the release of the ad in the magazines. The copies were printed on large sheets of plain glossy paper and had a caption added beneath which stated "This advertisement appears in the March 18th issue of Newsweek, the March 23rd issue of Business Week and the March 25th issue of Time. Prepared by the Essig Company, Ltd."
My scanner's bed was not large enough to include the caption.
I know the image looks huge in your browsers, however, IF YOU SAVE THE IMAGE (FILE.. SAVE AS.. or better yet just right click on the image and select save as..) AND THEN LOAD IT AND PRINT IT WITH COREL PHOTO PAINT 7, OR ADOBE PHOTOSHOP, ETC, THE IMAGE WILL PRINT NICELY ON A SINGLE SHEET OF PAPER, the actual size of the original.

Here's a nice photograph of a Chicago and Southern Air Lines DC-3, "City of Evansville". The photograph was taken by my Father in Beaumont, Texas (BPT) at the Jefferson County Airport. I was told on several occasions that this was taken because it was the last scheduled DC-3 to operate thru Beaumont prior to all Convair service there. Notice the number one motor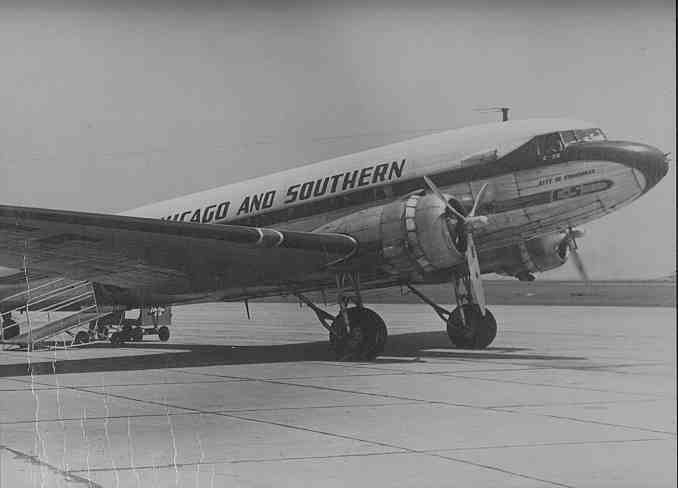 is idling, as ground time was kept to a mininum. Delta never repainted the C&S DC-3's after the merger and operated them just as you see this one until they were sold. As a matter of trivia, this aircraft was C&S fleet number C-36 and was a war surplus C-49 (C-49's were civilian production 3's impressed into military service, as opposed to C-47's which were built for the military.) It was operated by C&S from August 30, 1945 until Delta sold it on October 3, 1953, shortly after the merger.




Here's a goodie, a Delta Air Lines Lockheed 10B in the hangar in Atlanta undergoing maintenance. The Lockheed was the pride of the fleet in mid 1939 when this photo was taken.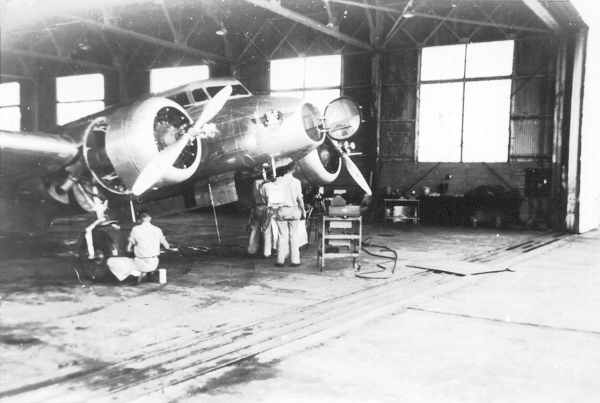 Birmingham was a busy place in 1939 and 1940. Several airlines operated in there, but the main competition was Eddie Rickenbacker's Eastern Air Lines, known as the "Great Silver Fleet" (Or to some, 'The Great Silly Fleet'). This is one of their DC-2's, which seated 14, it was bigger and more comfortable than Delta's Lockheed's though not as fast. Delta would soon catch up as they bought DC-2's from American Airlines in the spring of 1940 to supplement the Lockheeds.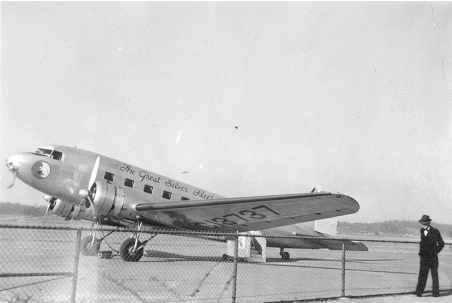 During trips home to visit his parents in Missouri, dad passed thru Lambert Field in St. Louis. Here he shot photos of whatever was on the ramp. Here is another C & S DC-3. This one is fleet number C-26 and was the "City of St. Louis". It also appears on the front of two official company postcards shown further down the page.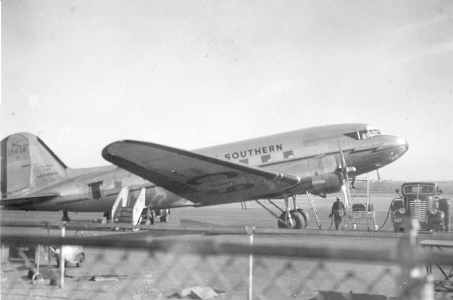 Also photographed in St. Louis was this TWA Boeing Stratoliner, a model 307. The note on the back of the photo says it was "held over on account of bad weather". The big four engine Boeing was built using B-17 bomber wings, engines, landing gear and tail surfaces with a big, round pressurized fuselage. Later due to problems they were operated unpressurized. This is one of only five that TWA bought, and only nine (or ten, depending who you read) were ever built, with Pan American being the only other operator. Boeing says that one aircraft was delivered to Howard Hughes for personal use, aside from the TWA order (he owned TWA) and the PanAm order (for a total of ten according to Boeing). I have a book about PanAm that says they only had three aircraft, which with the five to TWA and the one to Hughes only adds to nine, so I cannot tell you for sure except that there were no more than ten built. Oddly most of them wound up in French IndoChina, and the Air and Space museum has one, which was recently restored by the employees and retirees of Boeing in Seattle, and was on public display at Oshkosh 2001. For grins, I have included a picture taken of the restored B307 taxiing in at Seattle's Boeing Field on its return from Oshkosh 2001. Note the number 3 propeller is feathered, and it landed with it feathered. Evidently something went wrong on the return flight. Thanks to Art Tiller of Seattle for the great pic. Sadly, this particular aircraft later took off from Boeing Field very nearly out of fuel, and crashed in the water not far off the end of the runway. The aircraft was salvaged but will require years of restoration and repair to make it airworthy again.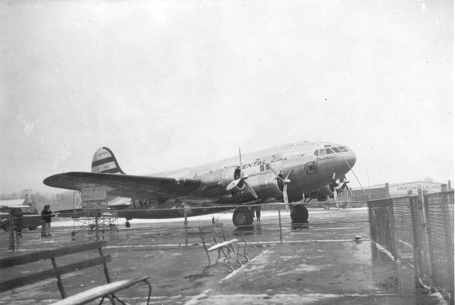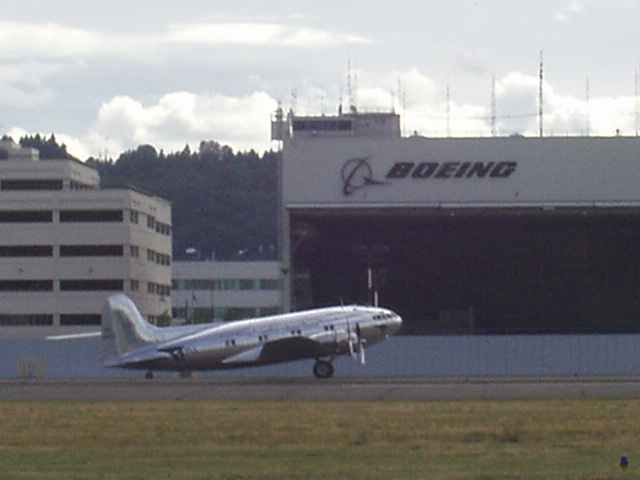 POSTCARDS ANYONE?
These are some older ('40's to '70's) Delta and C & S postcards I came across in an old trunk in dad's house. (they bear no copyright marks or notices on either side!)
Click on the link to get a larger, clearer image.


My brother started out working for Southern Airways, which later merged into North Central Airlines and together with Hughes Airwest formed Republic Airlines. Republic was short lived, being acquired by Northwest Airlines, my brother still works for them, in Fargo, ND. Here is an old Southern postcard of a DC-9-30 in the new paint scheme. The paint scheme appears to have been added to the photo.